Event recap: Victorian Privacy Network meeting 9 October 2019
On 9 October 2019, the Victorian Privacy Network held its second meeting for 2019 at the State Library of Victoria. Privacy professionals from different sectors and organisations in Victoria came together to hear from guest speakers, and it was a great opportunity to network, share, and learn from each other's experiences.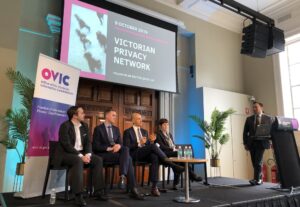 From left: Dr Chris Culnane, Annan Boag, John King, Megan Knight and Brian Wee. 
What topics were covered at the meeting?
There were a range of different topics covered at the meeting. A brief overview of each presentation is given below.
OVIC update
Information Commissioner Sven Bluemmel gave an update of OVIC's work in the last six months since the previous Network meeting in April – and it was clear that we have been quite busy! Some key developments include:
publication of the FOI Professional Standards, which will come into effect on 2 December;
publication of an e-book on the technical, social and legal challenges of artificial intelligence (AI), developed in collaboration with experts in the AI field;
upcoming publication of updated Guidelines to the Information Privacy Principles; and
release of OVIC report on investigation into the release of myki travel data.
Privacy and Victoria's Human Rights Charter
Our first guest speaker, Gregory Frank from the Victorian Equal Opportunity and Human Rights Commission (VEOHRC), gave a very informative presentation on the right to privacy under the Victorian Charter for Human Rights and Responsibilities Act 2006 (the Charter), including an overview of the public sector's obligations under the Charter, and how organisations can apply the Charter in their work.
Record keeping and privacy
Our next presentation was given by Andrew Waugh from the Public Record Office Victoria. Andrew spoke about the relationship between Information Privacy Principle 4.2 (destruction or permanent de-identification of personal information once it is no longer needed) and the Public Records Act 1973, the different purposes that public records serve, and what organisations should do with unsolicited personal information. See here for the presentation slides.
Cloud services
Next up we had a presentation from OVIC's Privacy and Data Protection Deputy Commissioner Rachel Dixon on cloud services. Rachel gave a high level overview of cloud computing and how it works, as well as its benefits and vulnerabilities. See here for the presentation slides.
Myki panel discussion
Finally, we were joined by four guests speakers for a discussion on the recent myki incident and the challenges of data de-identification, data governance and data release that the incident highlighted. Moderated by OVIC's General Counsel Bryan Wee, the panel consisted of:
Annan Boag, OVIC
John King, Centre for Victorian Data Linkage
Megan Knight, former Data Privacy and Ethics Lead at ANZ
Chris Culnane, University of Melbourne
Is there a recording of the meeting?
All our Victorian Privacy Network meetings are live streamed! This allows privacy professionals from across Victoria who aren't able to attend meetings in person to participate. A recording of the live stream is available on our Periscope page.
Where can I find out more information about the Network?
On the Victorian Privacy Network page – you can also join the Network there! The Victorian Privacy Network page also has copies of presentation slides available for download.
When is the next meeting?
The Network holds meetings twice a year, every six months. Our next meeting will be in March 2020.
Where can I find more information about OVIC?
Follow us on Twitter to keep up to date with all our events, including Victorian Privacy Network meetings, public forums, other OVIC events, resources and much more!