Event recap: Right to Know Day public forum 24 September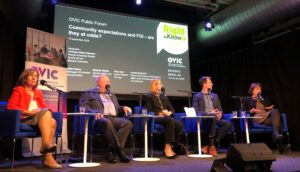 From left to right: Moira Paterson, Monash University; Robin Davey, Victoria Police; Melanie Olynyk, Maddocks Lawyers; Clay Lucas, The Age; Joanne Kummrow, OVIC. 
Community expectations and FOI – are they at odds?
This question was the topic of this year's Right to Know Day public forum held on Tuesday 24 September.
A lot has changed since 1982 when Victoria's Freedom of Information Act (FOI) was introduced; in fact, the nature of information itself has undergone a dramatic shift. The internet connected computers in every office have rendered physical files largely redundant, with digital documents being far more common.
But, as panel member Melanie Olynyk – Partner at Maddocks noted, despite this progress, the work of the FOI officer is still manual and frequently requires searches and reviews of emails and databases. Requests often involve a specific word search of a database or email system, and when you consider that larger agencies deal with millions of emails and countless documents every day, it is unsurprising that manually reviewing the results of such a search can take a long time.
Useful tips for applicants
However, the large amount of work required to process an FOI request may not be obvious to the person making the request which can lead to frustration from mismatched expectations. Melanie offered the following advice to applicants:
be as specific as you can in your request;
have a conversation with the agency about what you're seeking to access; and
be aware that a good decision can take time.
These tips can improve outcomes for both applicants and agencies.
The changing nature of 'documents'
The kinds of 'documents' that are commonly requested under the FOI Act have also changed since 1982. Robin Davey, Manager of the FOI Division at Victoria Police, noted that CCTV is much more prevalent today than in 1982 and processing FOI requests for CCTV footage can require considerable work. But Robin's comments on CCTV also serve as a good example of where the expectations of FOI applicants differ from those of agencies. He considered that members of the public generally have tacitly accepted that they will be recorded by CCTV in city streets, public transport and other populous places. But that acceptance comes with an understanding that the purpose of CCTV is, in general, to improve public safety by deterring and following up on incidents. Robin also noted the unlikeliness of the public's acceptance of being recorded by CCTV would extend to acceptance of that footage being released to other members of the public.
Payment by cheque an unnecessary hurdle
But despite advances in technology, the FOI process does have some antiquated holdovers. Clay Lucas, Senior Reporter at The Age, recalled how discouraging it can be when an agency requires payment by cheque. While not an insurmountable barrier, it is an added and perhaps unnecessary hurdle that can stand in the way of the object of the FOI Act – which is to make the maximum possible amount of government held information available to the public. However, Melanie noted that the Professional Standards should address this issue in many cases by requiring agencies to accept electronic payment methods for FOI requests, so long as they already accept those payment methods for other services.
Research shows the public values their right to know more than ever
Professor Moira Paterson, Director Graduate Studies at Monash University, moderated the forum and noted the number of FOI requests has increased dramatically since 1982. Joanne Kummrow, Public Access Deputy Commissioner at OVIC, noted recent research commissioned by OVIC has shown that members of the community are more highly aware than ever of FOI and access to public information. Joanne also observed that the public now has a greater appetite for information, as well as an expectation that government information will generally be available. Clay's comments indicated that during his many years of experience making FOI requests, and despite the public's increased desire for government held information, it has generally become harder to access documents relating to machinery of government through FOI.
Proactive release of information
One way that agencies could satisfy the public's growing appetite for access to information is to simply make more information available outside of the FOI Act. Melanie highlighted that there are many benefits of proactively releasing information, including reducing the workload of FOI officers. Robin also supported this notion, saying that agencies should make available a raft of information, and that FOI should be a last resort for those seeking government held information – not the starting point. OVIC encourages agencies to proactively release information where possible and appropriate. We've developed a Practice Note with more information on proactive release of information, read it here.
More information
A recording of this event is available on OVIC's Periscope channel.
Find out more information about OVIC's 2019 Right to Know Day activities here.