Privacy Awareness Week (PAW) is an initiative held every year across the Asia Pacific to promote and raise awareness of privacy issues and the importance of protecting personal information.
In 2020 PAW will be celebrated in Victoria from 4 – 10 May 2020.
The theme for PAW 2020 is Privacy – protect yours and respect others'.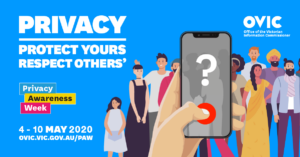 Update on events
Due to the spread of COVID-19, OVIC will not be hosting face-to-face events for PAW this year to ensure the health and safety of staff and members of the public. We are currently exploring ways to celebrate the week safely and remotely.
Digital resources
OVIC is developing a range of digital resources for organisations including videos, images for social media, email signatures and more.
We will publish the suite of digital resources to download on this page. Stay tuned!
For updates on Privacy Awareness Week, follow us on Twitter and LinkedIn.