Privacy Awareness Week 2021 – celebrated Monday 3 May to Friday 7 May
The theme for Privacy Awareness Week (PAW) is Make privacy a priority.
PAW is an annual event that highlights the importance of protecting personal information.
Celebrate PAW 2021 by hosting an event in your organisation, joining one of our events, and downloading OVIC's supporting materials below including email signatures, posters and images for social media.
Join the conversation on social media using #PAW2021.
During PAW we will publish animations targeted at Victorian public sector staff on information sharing and privacy by design, and on privacy rights for members of the public.
Follow us on Twitter and LinkedIn to stay updated.
This PAW, how will you make privacy a priority?
---
Events
Privacy Awareness Week Launch | 3 May, 10:00am – 10:30am
Lightning talk: Blueprint and tools for making privacy a priority | 3 May, 2:00pm – 2:40pm
Panel: Prioritising privacy in a digital world | 4 May, 11:00am – 12:00pm
Lightning talk: Diving into data breaches: An interactive simulation | 5 May, 11:00am – 11:40am
Lightning talk: Sharing personal information: The basics | 6 May, 11:00am – 11:40am
Cyber safety for young people, parents and advocates – presented by ySafe | 6 May, 5:30pm – 6:30pm
---
Supporting materials
---
Email signatures
Download the blue signature

Download the dark blue signature

Download the pink signature

Download the grey signature

---
Social media images
There are three social media image variations to choose from, all in a range of colours (blue, dark blue, pink and purple). All of the images are packaged here in a .zip file (1.1 MB).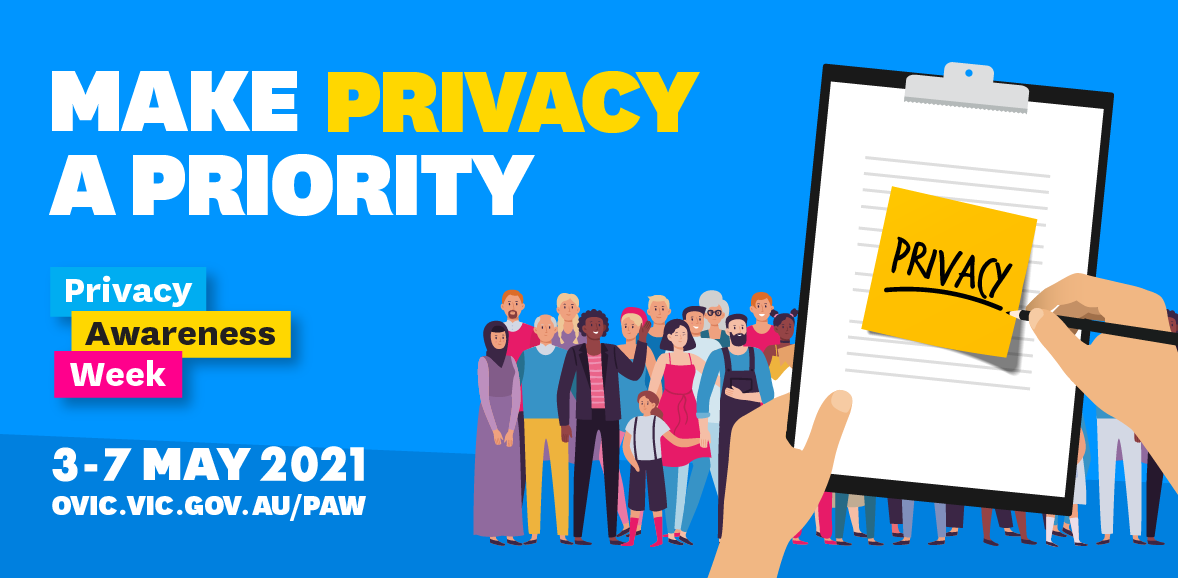 ---
Poster
We also have an office friendly printer poster available in three colours, download them in .pdf form in blue, pink or white.